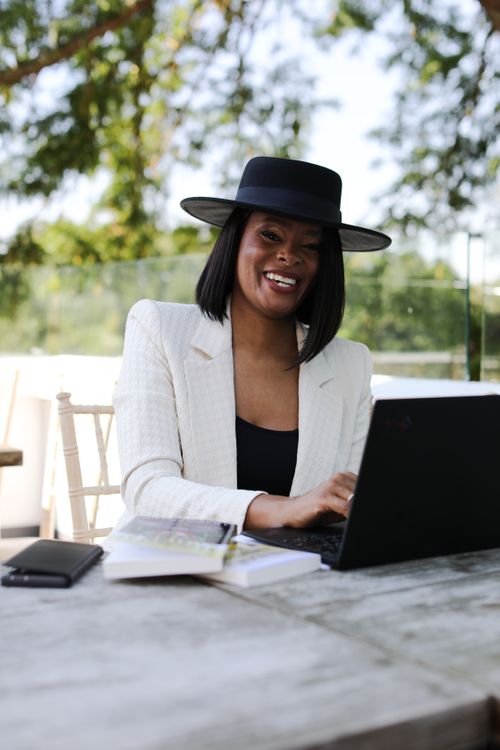 PJ's Community Service
| Consultancy
| Leadership Consultancy
| Networking
| Training and Motivation
| Training and Development
Claudine Reid MBE has been a practitioner, consultant and Government advisor on social enterprise and social entrepreneurship, since 1995. Her work has been instrumental in finding solutions for common issues such as: how to grow a social enterprise, how to develop leadership skills and showing the pathways to and benefits of community transformation.
As a continuation of this work, Claudine designed 'Women on the Frontline' a network to connect female entrepreneurs and help form collaborative partnerships and to share knowledge. Claudine' s passion is to equip and encourage women across all spheres of influence to drive economic empowerment and create sustainable jobs that contribute to community and generational wealth.
Mission and Purpose
Claudine works with female social entrepreneurs and influencers, encouraging partnerships and knowledge sharing about community and geographical transformation.
She describes this as "seeing creative minds, social entrepreneurs and other key influencers facilitating dynamic conversations, in order to use their skills and expertise to support their contribution to the global economy".
Drawing on her own expertise and experience of running a multi-award-winning organisation since 1992, employing over 9000 people who deliver essential services to vulnerable adults and children; Claudine has designed a number of mentorship programs for entrepreneurs on practical and transformational community impact. She has drawn on the United Nations 17 sustainable goals as a catalyst to contribute to improving the financial eco-system.
Claudine is a former UK Government Cabinet Office advisor, she currently chairs the Lloyds Banking Group Advisory Committee, supporting the Bank to better understand challenges and barriers experiences by Black entrepreneurs. Trained and mentored by John Maxwell, the New York Times best-selling author, speaker and coach and mentors from his world class faculty, Claudine has tools and resources to support the personal and professional entrepreneurial journey in order to improve team efficiency, performance, and profitability.
As one 41,000 mentors in the world ( https://johnmaxwellteam.com/global-family-of-professionals/) Claudine has the ability to deliver inspirational leadership and personal development training sessions that will assist you in taking a spectacular leap into your future.
Address
CVA, Resource Centre
82 London Road
Croydon
Surrey
Surrey
CR0 2TB
United Kingdom