18 Nov 2021
Sinowei Services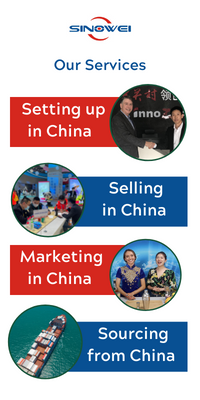 Setting Up in China
Sinowei works on behalf of the company ZGC Group, based in the Yangtze River Delta Region that manage several science and technology innovation park. ZGC Group is seeking to collaborate and assist western companies from cutting edge technologies. The focus is on information industry, health industry, environmental protection and intelligent manufacturing and other strategic emerging industries. Sinowei can introduce prospective clients to ZGC services.
Selling in China
Sinowei is an importer of goods and has the license to sell products legally to Chinese consumers. We take your brands and get them China ready and China compliant. We also have serval distribution channels, both B2B and B2C. We display your products in our Sinowei Showroom based in G-Hub, Shanghai. From here, our sales team regularly feedback to Sinowei UK and our suppliers. The Sinowei team exhibit at several tradeshows with your products throughout the year. We also offer the option of a dedicated brand ambassador for your brand & products.
Marketing in China
In China people's lives even more intertwined with the online world. At Sinowei, we help to develop and execute an online strategy and online presence for your brand. Whether it's through video demonstrations and reviews (in Mandarin), Chinese social media marketing, Weibo advertising using KOL's – we have the reach to online Chinese consumers. We also move these online interactions to offline events such as In-Store Sampling and Demos.
Sourcing from China
We make your purchasing process more efficient and we help you benefit from the opportunities when buying from China with the overall aim to lower your purchasing costs. Our experience and qualified team will ensure that you get good quality products delivered and that you get a professional service. On behalf of our customers we take an active role during the entire purchasing process monitoring the flow of information and products from supplier sourcing to final delivery. We also ensure that both product quality and delivery punctuality are met to each client's expectations.