23 Nov 2021
UK Standing Desk Reviews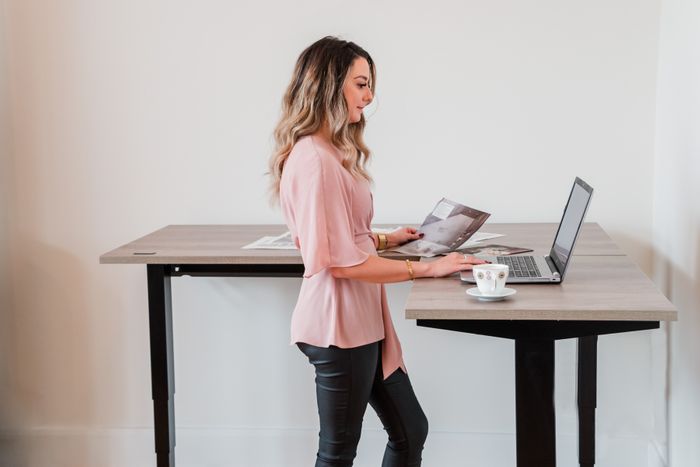 We'll let you into a not very well-kept secret. FRISKA isn't the only standing desk on the market.
If you're thinking of buying a "Premium" sit/stand desk, that presents you with a tricky challenge because, at first glance, one desk my look similar to another, especially online.
So how do you separate the good from the great?
For that, you need to get into the detail, comparing the things that really count when you're using a desk every day.

That's why our sit/stand desk review compares:
Noise levels,
Height variation,
Sturdiness,
Speed of movement from sitting to standing position and finish options.
Then, we take the other elements that form part of the decision-making process – delivery, assembly, compliance, sustainability and price – to build a detailed picture designed to help you make an informed choice.
Comparing like with like
For our standing desk reviews, we've taken a standard FRISKA 1200 x 800mm height adjustable desk and compared it with the closest 'fit' from Fully, Ikea and FlexiSpot, three competitors our customers tell us crop up time and again when weighing up buying options.
The models we're comparing are:
FRISKA Stockholm Dual Motor
Fully Jarvis Laminate
Ikea Idasen
FlexiSpot E7 Standing Desk
All comparisons are based on information from the manufacturers' websites and supporting material. All details were correct at time of writing.
Height variation
Traditionally, desks have been designed to suit someone of 'average' height (inverted commas very much intended). As you might expect, that average was about six feet (182.5cm), probably because that was the average height of the men designing them.
Thankfully, sit stand desks do away with the 'average' once and for all to create something far more inclusive.
Yet even here, where every desk is adjustable, range matters.
If you're 6' 8" (203cm) – clearly far taller than the average person but hardly unheard of - the height of your standing desk needs to be around 129-130cm to enable you to stand and work comfortably.
Similarly, if you're around 5 feet tall (where 'ideal' sitting height is around 60cm), you need a desk with a range that's right for you.
Even if you fall squarely in the middle of that height spectrum, every person finds that their ideal height is never quite the same as anyone else's, so the greater the range between your desk's highest and lowest points, the more chance you have in setting your desk at a height that suits you.
The range comparison (in cm):
| | | | |
| --- | --- | --- | --- |
| FRISKA Stockholm | Fully Jarvis | Ikea Idasen | FlexiSpot E7 |
| 59.5 - 130 | 62.2 – 127 | 61 – 127 | 58-123 |
Of the desks in our review, the difference between the standing desk offering the best range (the FRISKA) has a full 8.5cm advantage over the desk with the poorest range (the FlexiSpot). 8.5cm is roughly the height of your typical coffee mug - not something to be dismissed lightly, especially if your height puts you close to those range limits.
The verdict:
FRISKA wins.🥊🥊🥊
Speed of movement
The speed at which your desk top rises and lowers never seems like a big issue until you're living with your standing desk every day. But think of it this way: the whole point in choosing a sit/stand desk is to be able to shift from sitting to standing and back several times each day, and a desk you need to wait for is a desk that's putting the brakes on your productivity.
It's the sort of thing you're likely to put up with initially. Then gradually, as waiting for your desk to raise and lower begins to grate, it's enough to make you wish you'd chosen a swifter model.
Movement speed (in cm/sec):
| | | | |
| --- | --- | --- | --- |
| FRISKA Stockholm | Fully Jarvis | Ikea Idasen | FlexiSpot E7 |
| 4.2 | 3.8 | 1.9 (at full load) | 3.8 |
It's slightly unfair to compare the Ikea desk, which unlike the others was tested at full load, but it's the clear slow coach compared with the others in our standing desk review. It also has the greatest gap between stated speed and actual speed.
The verdict:
At 4.2cm/sec, FRISKA wins comfortably. 💯
Noise level
It's fair to say that none of the sit/stand desks in our review is 'noisy', but when you're working in an office with others and alter the height of your desks a few times each day, it doesn't take more than a few extra decibels to turn a noise your colleagues barely notice into one that becomes a growing irritant.
The noise comparison (in dBA):
| | | | |
| --- | --- | --- | --- |
| FRISKA Stockholm | Fully Jarvis | Ikea Idasen | FlexiSpot E7 |
| 38 | 50 | 55 (claimed) 63 (actual) | 50 |
The noisiest of our standing desks is the Ikea, with a claimed 55dBA becoming a real-world 63dBA. That's hardly jet engine levels but, using a guide from the American Academy of Audiology (AAoA), it's equivalent to the noise generated by your dishwasher or a conversation at normal volume.
It's certainly a sound you'll hear and, as you raise and lower your desk, it's probably loud enough to attract irritated glances from those around you. The rest of the standing desks in our review fared better. The E7 and Fully Jarvis both generate 50dB, equivalent to moderate rainfall – respectable if not silent.
FRISKA generates a noise level of 38dB. According to the AAoA's guide, that's equivalent to a quiet library.
The verdict:
If you want a desk that doesn't shout about the fact it's moving from sitting to standing, FRISKA wins. 🙏🙏🙏
Frame material and load
Unless you're carrying out some extremely heavy duty work at your desk, chances are all of the models in our UK standing desk survey will be more than capable of taking the weight of your monitors, printer and other tools of your trade.
To put it in context, an average car tyre weighs around 8kg. Even the Ikea desk, which trails far behind the others, will comfortably manage nine tyres – its tubular steel construction and honeycomb desktop being the limiting factors.
At 120kg, the FRISKA desk, with its heavy duty, high quality steel construction, will happily take 15 average car tyres, whilst the Fully Jarvis will take even more.
Frame material and load (in kg)
FRISKA Stockholm

Fully Jarvis

Ikea Idasen

FlexiSpot E7

Heavy duty steel

120

Alloy

158

Steel

75

Steel

125
The verdict:
FRISKA and FlexiSpot perform well, but Fully Jarvis takes the load crown.
Sturdiness
Even a standing desk that can, on the face of it, withstand the mightiest of loads will need more than pure strength to do its job effectively. It also need to be rigid enough to avoid the dreaded wobble. That rigidity comes from cross-bracing and the models in our UK sit/stand desk review take several approaches to resolving the issue.
The Fully Jarvis Laminate employs a thin, ladder-type assembly beneath the desktop that performs well as a sitting desk, but allows some wobble and rocking at raised heights, as demonstrated in this standing desk review.
The FlexiSpot uses a similar form of bracing to the Fully, whilst Ikea uses a thin, rail-type assembly.
FRISKA, on the other hand, uses a solid U-beam with multiple fixing points that creates an extremely effective cross-brace. Small wonder our customers have described our desks as "rock solid" even at height.
The verdict:
A rock solid win for FRISKA. 🤛🤛🤛
Finishes
You haven't lovingly designed your office only to compromise it by plonking a big white/black/grey desk there, simply because those were the only choices you had available. Being able to choose your preferred combination of frame and desktop matters for any company that cares about its appearance. It matters even more when your space has been branded, because the desks need to support the branding, not detract from it.
Frame colours and desktop finishes:
FRISKA Stockholm

Fully Jarvis

Ikea Idasen

FlexiSpot E7

Frame options:

Desk options:

Possible combinations:

6

18

108

4

10

40

2

2

4

3

15

45
Desk material is also a consideration. Ikea uses a lightweight cardboard honeycomb construction covered by a veneer. The honeycomb approach offers an impressive strength to weight ratio but there's no escaping the fact that it can't bear the same loads as its competitors.
FRISKA, Fully and FlexiSpot all employ MFC on at least some of their desks. MFC is melamine faced chipboard that creates a dense board resistant to flexing and bending. It also lends itself to greater variety in terms of finish
The Fully Jarvis also offers three ply-edged and four solid variants, although the Jarvis top is 20mm thick compared with the FRISKA's 25mm.
Sealing the deal, however, is the fact that the FRISKA Stockholm also offers engineered wood tops as part of its range. The 'engineered' element is important. A solid wood desktop, despite it sounding like the premium choice, is actually liable to shrink, warp and even split over time (and in a dry, centrally heated office, that time could be little more than a year).
An engineered desktop uses MDF layers encased in a real wood veneer, which means no deformation – just heavy duty performance hidden beneath a real wood grain.
The verdict:
In terms of worktop depth and materials, FRISKA wins.🤘✌

In terms of frame/worktop choice, FRISKA wins by a mile.🤘✌
Sustainability
No review of our standing desks would be complete without examining their sustainability credentials. Whether it's part of your sustainable procurement strategy, a case of ensuring you walk the walk when it comes to acting ethically, or simply because you don't want to sit or stand at a desk that cost the earth to create, sustainability matters. So how do the models in our standing desk review measure up?
FlexiSpot says that it strives "to produce eco-friendly and sustainable products" and its site carries the FSC and CARB logos. There is no specific information about the E7 desk's sustainability.
The honeycomb construction of the Ikea Idasen desktop is eco-friendly, even if it somewhat compromises load. Ikea also sources 91% of its wood from FSC-certified sources and recycled wood, and will use only renewable-based plastics by 2030.
The Fully Jarvis Laminate is GREENGUARD certified, indicating it has been tested and scientifically proven to have low chemical emissions. It's also SCS accredited, which is an independent third party assessment of sustainability.
FRISKA's worktops are FSC (Forest Stewardship Council)-certified, which indicates that all forest products used in manufacture (in our case, wood) comes only from well-managed forests or recycled sources.
The verdict:
Joint honours all round as every manufacturer is doing more to make sustainability a vital part of their offering.
Reviews
We're not the only ones carrying out a review of standing desks in the UK. Happy (and not quite so happy) customers have been leaving their own reviews on manufacturers' sites and on review sites like TrustPilot.
Ikea brings up the rear with two reviews on site and a TrustPilot score of 2.1. It's important to note, however, that those reviews are not based solely on the Idasen desk, but on the company in general.
FlexiSpot has an impressive 231 5* reviews on TrustPilot but, at time of writing, 20% of their TrustPilot reviews give them 1*.
Fully Jarvis combines its reviews globally and the majority of those are from the US. There are thousands of reviews, though, and many are glowing. In the UK, Fully's TrustPilot rating is a slightly underwhelming 3* but these relate to the company as a whole, not just the Jarvis desk.
FRISKA sits pretty with 114 5* reviews. The overall number of reviews is lower than competitors, but this is a case of quality over quantity. There are no 1* or 2* reviews, one 3* review and two 4* reviews. Which means that 97% of FRISKA customers who gave a review, gave a 5* rating.
On TrustPilot, FRISKA scores similarly well (91% excellent) so just in case you thought we've only been placing the good reviews of our standing desks on the site, think again.
The verdict:
In terms of sheer volume of 5* ratings, Fully Jarvis wins. When it comes to % of 5* reviews, FRISKA steamrollers the field. 🙌🙌🙌
Compliance
EU/UK compliant?
| | | | |
| --- | --- | --- | --- |
| FRISKA Stockholm | Fully Jarvis | Ikea Idasen | FlexiSpot E7 |
| Yes | No | Yes (but not if Bluetooth app is used) | No |
It's important to note that, whilst the Fully Jarvis and FlexiSpot are not EU/UK compliant, they are US compliant – BUT it's equally important to understand what that means.
Compliance standards are not uniform around the world. Meeting US standards does not mean that a product meets the same standards required for CE/UK compliance. US compliance marking is not a legal obligation, although product safety requirements are drafted and inspected at federal level.
In the EU and UK, compliance marking is a legal requirement and a CE mark (or UKCA mark in post-Brexit UK) is confirmation that a product meets all the legislation that applies to it.
Two of the standing desks reviewed do meet multiple UK/EU standards. They are:
FRISKA Stockholm
Machine Directive 2006/42/EC
EMC Directive 2014/30EU
Low voltage directive 2014/35/EC
REACH
WEEE
RoHS 3 2015/863
EN 527-1:2011 Type A, EN 527-2:2016
ISO 21016
FSC Certificated (Tops)
Ikea Idasen
EN 60335-1 : 2012 + A11 : 2014 + A13 : 2017
EN ISO 12100 : 2010
EN 62233 : 2008
EN 50663 : 2017
EN 62479 : 2010
RoHS EN 50581 : 2012
EMC EN 301489-1 : V2.2.0
EMC EN 301489-17 : V3.2.0
EMC EN 61000-6-1 : 2007
One curious anomaly of the Ikea desk's compliance comes with its Bluetooth control. This element does not comply with EU/UK standards.
The verdict:
FRISKA wins by a nose.💪💪💪
Delivery
| | | | |
| --- | --- | --- | --- |
| FRISKA Stockholm | Fully Jarvis | Ikea Idasen | FlexiSpot E7 |
| Same day despatch (if ordered by 12pm) | Ships in 1-2 business days from Belgium | Ships in 4 business days | Same day despatch (if ordered by 12pm) |
You don't want to wait weeks for your new desk(s) to arrive, and happily you'll have your furniture fast whoever you choose from our standing desk review.
Ikea is the slowest to deliver but also the only one that offers the ability to collect it yourself. That could make it the fastest way to receive your new desk, but only if you're prepared to travel to your nearest store, have a car boot big enough to accommodate it and the muscle power to load and unload it.
The verdict:
FRISKA and FlexiSpot claim joint honours.
Installation
| | | | |
| --- | --- | --- | --- |
| FRISKA Stockholm | Fully Jarvis | Ikea Idasen | FlexiSpot |
| Yes | No | No | No |
If you're handy with a flatpack you'll be right at home with your standing desk – but what if allen keys aren't your thing?
FlexiSpot is self-assembly only. Ikea and Fully are self-assembly but you can arrange installation/assembly via their third party teams. That said, there's nothing to stop you doing that with FlexiSpot too – it's just that you'll have to search for a local installer yourself.
The verdict:
As the only manufacturer in our standing desk review to offer installation by its own team, FRISKA wins. 🔥💯🔥
Guarantee
Guarantee (in years):
| | | | |
| --- | --- | --- | --- |
| FRISKA Stockholm | Fully Jarvis | Ikea Idasen | FlexiSpot |
| 10 | 15 (5 for desktops) | 10 | 3 (on motors) |
Not easy to compare like with like here as manufacturers guarantee different parts of their desks. FRISKA and Ikea offer generous guarantees that apply to the whole desk (although if you want to ask Ikea to honour theirs you'll have to transport it back to the store). The Fully Jarvis wins out with a 15 year guarantee, but somewhat muddies the waters by offering just five years on its desktops.
The verdict:
Fully Jarvis. Sort of.
Swedish-ness
'Scandinavian-style'. 'Swedish-inspired'. There's a reason standing desk manufacturers like to promote their Swedish credentials – Sweden is a byword for innovative, quality manufacturing with an environmentally-friendly ethos.
So you might be surprised to know that, whilst many of the sit/stand desks you'll come across say they are Swedish or Swedish-like, most aren't. Of the models in our sit/stand desk review, only the Ikea and FRISKA desks are made in Sweden (the others are manufactured in China).
And of the two bona fide Swedish models in our survey, the FRISKA outperforms the Ikea in virtually every respect.
The verdict:
FRISKA. Genuinely Swedish. Genuine quality. 🇸🇪 🤛🇸🇪
Cost
Cost (£):
| | | | |
| --- | --- | --- | --- |
| FRISKA Stockholm | Fully Jarvis | Ikea Idasen | FlexiSpot |
| 699 | 767 | 490 | 400 |
At £400 the FlexiSpot E7 is the cheapest entrant in our UK standing desk review. Ikea comes close behind with the Idasen, which you can lug from the shelves of your local warehouse for £490.
Price aside, however, neither desk wins any of the categories in this review outright. With apologies for the cliché, now seems as good a time as any to say 'you get what you pay for'.
That said, it's also often the case that the most expensive option is not the best either, and so it proves here. While the Fully Jarvis Laminate does come top of some of our categories, the FRISKA scores better on many more – and it's £68 cheaper.
The verdict:
FlexiSpot is cheapest. We'll leave you to decide to what extent that's a good thing.
The round up
Crucial in deciding the right sit/stand desk for you is establishing what's important. In part, that's about considering what you need to do your job. If your desk needs to carry a keyboard, a couple of monitors and your coffee cup, the fact it can hold the weight of a baby elephant is fairly redundant.
Then there's the matter of the environment. The more refined and designed the space, the more options you'll want to ensure your desk looks at home. The more people around you, the less noise you'll want to create every time you stand up or sit down.
And then there's budget. If price is the dominant factor, the fact your desk isn't as whisper quiet as you might like – or doesn't have the height range you'd prefer – may be compromises you feel you have to make.
But where all options are on the table, our review of standing desks in the UK clearly shows that, time and again, FRISKA's height adjustable desk wins.
And we offer free on-site consultations and full DSE assessments on request too.
Ready to liberate your workspace? Make a stand. Discover your new FRISKA standing desk now.