27 Nov 2020
Our Virtual Launch Success!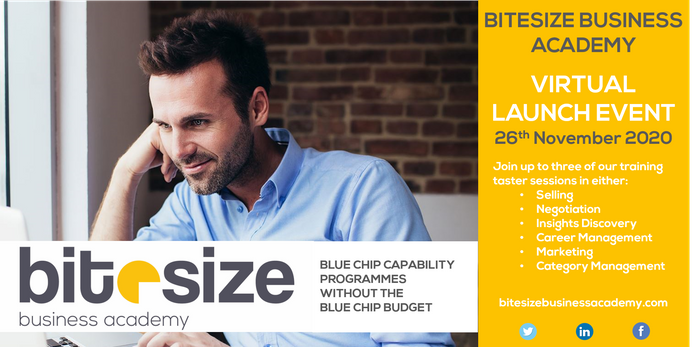 Yesterday was a big day for us, as we hosted a virtual launch on Zoom! We wanted to take the opportunity to showcase our programmes for free, offering guests the chance to sample up to three 30-minute sessions across the range of our courses.
Over fifty people attended the launch from a range of organisations, roles and sectors. Duncan Cawdell, the founder of Bitesize, welcomed the attendees and gave an overview of the Bitesize offering, sharing our philosophy:
Lifelong learning is essential for individuals and companies to succeed in an ever-challenging competitive workplace.
The customer experience you create, and deliver is as essential as the products and brands you market – if you are to grow.
Skills development must be practical, engaging, flexible, affordable, and accessible to all, irrespective of your size.
By making things simple, easy to understand, and easier to replicate, our work and our success become more enjoyable, and more successful.
VIRTUAL delivery is the perfect platform to make this work for businesses.
It is on this philosophy that we have built and designed Bitesize Business Academy with the end user in mind. Ensuring our programmes are excellent value for money at just £295, offer flexibility to allow individuals to book a training course at a time that suits then, and all are delivered by experts in their field, providing years of knowledge and expertise that can be applied instantly back in the workplace.
Following Duncan's introduction, attendees were then sent into a breakout room of their choice to sample a programme of their choice in the following disciplines: Selling; Negotiation; Marketing; Category Management; Insights Discovery and Career Management. Each of the sessions shared content from their programmes, giving the attendees the opportunity to see for themselves what they might expect from the courses. Following the sessions, attendees were directed back to the main virtual room before being directed to the second and third taster. After each taster, attendees were asked to give their views on what they had sampled. The feedback was extremely positive. With many attendees saying they were 'likely' or 'very likely' to book on a programme based on what they had seen. The feedback on the expert facilitators was also extremely positive with participants saying they were informative and engaging.
In our closing session, we shared how easy it is to book on a programme, with our secure booking and PayPal payment system. https://www.bitesizebusinessacademy.com/booking/
In our final exit poll, all our participants 'Strongly Agreed' or 'Agreed' with the statement "I was able to see the effectiveness of Zoom and how this can enhance virtual learning" and "At £295 per programme, Bitesize Business Academy is excellent value for money" and many participants wanting to see even more programmes. – Watch this space!
We would like to thank all those that attended the launch. Congratulations to our three winners in our Quiz! – We will be in touch to arrange prizes.
Also a massive thank you to Krystian Jones and his Team at Splinter Fraction who supported us in the technical production at the event. An amazing job as ever!
And finally, but by no means least, thank you to our experts who hosted the breakout taster sessions. We really appreciate all the effort you have put in to make the event a successful and informative one. The poll results speak for themselves!
If you want to know more about how Bitesize can help you and your teams improve their capability, contact us at info@bitesizebusinessacademy.com or look at the range of programmes we have on our website: https://www.bitesizebusinessacademy.com/programmes/