17 Nov 2021
Meet the UK's 50 fastest-growing startups: Fondy named in SVC2UK's 2021 Scale Up Club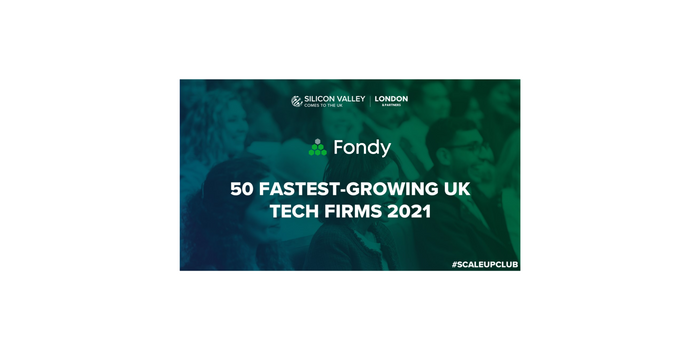 City A.M yesterday published their story: Meet the UK's 50 fastest-growing startups.
Silicon Valley Comes to the UK (SVC2UK), a global ecosystem of technology leaders, has selected Fondy as one of the UK's most promising high-growth firms to join their 2021 Scale Up Club cohort.
Each year SVC2UK invites 50 startups to join their Scale Up Club 12-month programme. The participants will learn and be mentored by UK and US industry technology leaders. Alumni of the Scale Up Club include Fintech Unicorn Wise and global travel company Skyscanner.
Our CEO, Valeria Vahorovska, will be participating in the programme and receive support to boost Fondy's growth journey and expansion plans, assisting us as we scale further and conquer new markets.
As a testament to our tremendous growth story, Fondy has been selected alongside some of the nation's most innovative companies in a wide range of sectors, including AI, EdTech, HealthTech and of course, Payments.
Companies participating in the programme have been hand-picked for their potential – eligible companies must prove strong year-on-year development, meet revenue requirements and demonstrate an ambitious growth mindset. We're delighted to be part of this programme!
One aspect of this year's cohort is the vast diversity of the founders participating in the programme. Of the fifty firms selected this year, 42% are led or founded by women, and 32% are from diverse backgrounds. Our CEO Valeria has long been an advocate of advancing female representation in technology entrepreneurship. She is an Ambassador for the European Women Payments Network (EWPN) and was also named in the Women in Fintech Powerlist by Innovate Finance in 2020 .
Fondy plays a key role in simplifying the global online payments landscape – our one-stop payment platform is designed to streamline cross-border payments and payouts for online businesses of all sizes.
With our cutting-edge technology, we enable thousands of businesses to sell online worldwide, easily and efficiently, using local payment methods. Merchants can stay local while reaching buyers all over the world.
In summary, our customers can accept money and make payouts in the currency of their choice by simply opening Fondy's local IBAN accounts, all from one user-friendly platform.
<<Creating a free account only takes a few steps, to kickstart visit www.fondy.io>>
We're looking forward to working closely with this esteemed community and will be providing updates as our journey progresses.