12 Jun 2020
Interview with Cubefunder founder and CEO, Gary Miller-Cheevers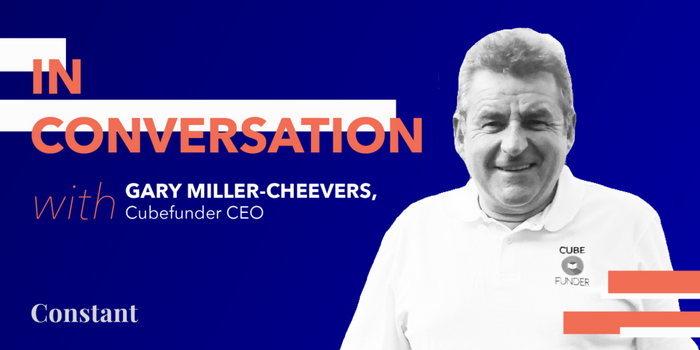 Gary is a seasoned entrepreneur with a passion for helping small businesses thrive.
Below, Gary explains a little about his business and what makes Cubefunder loans an ideal investment opportunity.
Hi Gary. Tell us a little about your background and experience.
I've been in lending since the mid-1980s. I started out in the City of London with Allied Hambro and then set up on my own in 1991. By 2005, I was CEO and majority shareholder of Elephant Loans plc. In 2009, I set up one of the first Fintech lenders and then acquired another lender after a spell on the board of directors at a major UK pawnbroking chain. I sold this business in 2016 and set up Cubefunder.
How did the idea for Cubefunder first come about?
It came out of the 2008 / 2009 banking crisis where small businesses were having their loans and overdrafts called in and were finding it very difficult to find another bank to replace the lending. There were only really 5 banks small businesses could go to, and if one said no, they usually all said no. It was time for a change. I was about to launch in 2010 but another business opportunity arose in the consumer finance market, so I did that instead. In hindsight, I wish I'd started Cubefunder earlier, but hindsight is a wonderful thing!
What challenges did you face as you developed Cubefunder and how did you overcome them?
The main challenge with growing any business is getting the staff to think like you do. We are really lucky to have a great team headed by Hayley Turner who has worked with me for many years.
What makes Cubefunder different from other commercial lending platforms?
Our customers say they like that fast and efficient online process and quick underwriting, but what really sets us apart is that they actually meet someone from the company just before the loan funds. This brings a human touch that small business owners seem to like.
Cubefunder reports a below-average default rate. How do you manage default risk?
Our internal debt management is our "Ingredient X" – but the key to it is building a relationship and understanding the problems our business owners face, and then helping them get over these with innovative repayment scheduling.
Why did you join MyConstant as a loan origination partner?
The team at MyConstant has a fresh and innovative approach, which I feel reflects the values we hold at Cubefunder.
What would you like our US investors to know about Cubefunder?
Cubefunder is an SME (small-to-medium enterprise) lender with a difference. We are run by business people who have experienced the same problems as our customers face.
Although we are classed as "Fintech", and have all the cutting edge systems and operating tools required to compete in the online SME lending space, we are more Fin than Tech. We like to meet all our customers, and we know this may stop us from becoming a billion-dollar enterprise, but our mission is about minimizing bad-debt, generating profit, and providing investor returns from providing the fast financial help genuine hardworking business owners need.
Thanks, Gary! To help British businesses get the cash they need while earning a return of 9.5% APR, check out Cubefunder's available loans on our Loan Originator page.