02 Aug 2021
Incepteo Hailed as Clutch Top 100 Agency for Fast Growth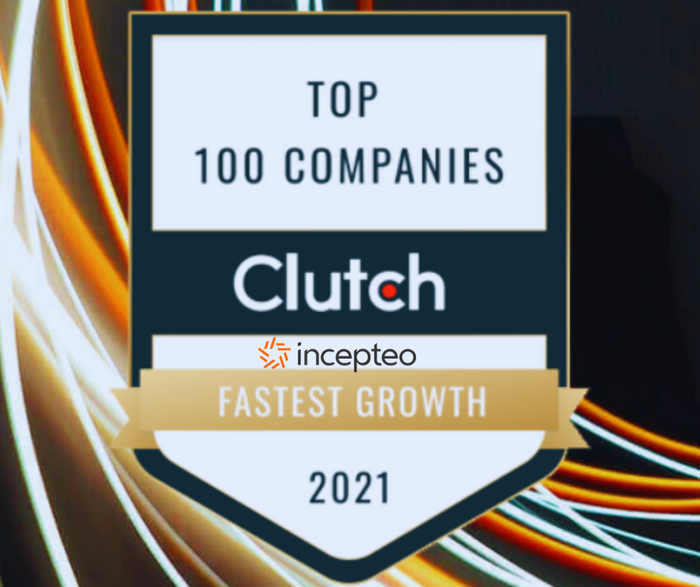 Incepteo has been recognised as Clutch's top 100 agency for fast growth.
Clutch is a trusted platform that works with B2B companies to provide honest and detailed reviews and ratings. Clutch encompasses various industries across the globe such as, web & software development, mobile app development, advertising and marketing. They have worked alongside Incepteo to provide their clients with a means to share valuable feedback.
CEO and Director of Incepteo, Chaithanya Kumar states "It is extremely exciting to have been chosen as one of the Clutch Top 100! It only pushes our resolve and commitment to growth. Over the last few years, we've worked extremely hard towards developing a process that has facilitated our growth within the technology sector. It has been a tumultuous time with the COVID-19 pandemic, but everything we have achieved has been due to the hard work and dedication of everyone around us".
He continues "Staff have risen to every challenge and responded seamlessly to the feedback of our clients. We have fostered an environment that has allowed for communication and constant feedback. The environment we sustain has been the number one driving factor to producing results and delivering projects.
Finally, our clients have been open to sharing their meaningful and creative projects with us. Working on projects that support others and advance our community, has been especially important over the last 2 years. We couldn't have won this award without incredible and sustainable business ventures trusting us with their campaigns".