30 Sep 2022
Importance of Good Customer Service in Your Business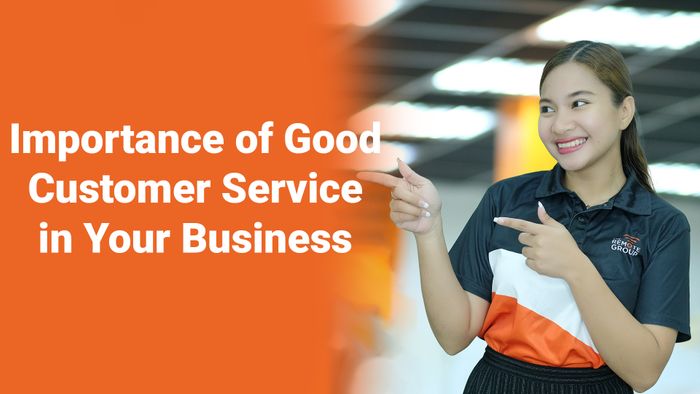 If you think about it, your customer support representative (CSR) speaks on behalf of your organization. They are your front liners when clients experience issues or problems with a product or service.
Customer support, in a sense, may be considered as a type of customer service. With 96% of customers saying that customer service is paramount to their choice of brand, businesses simply cannot skimp on this aspect.
Aside from resolving issues, customer support representatives also answer queries regarding products and services. Having properly trained agents can also be key to making sales, long-term customer retention, and acquiring new clients.
Customer support services are also essential in building an outstanding relationship with your existing clients. Word of mouth gives your business a different kind of power and helps in acquiring new clients organically. Thus, making a customer support team a worthwhile investment.
WHAT IS CUSTOMER SUPPORT?
Customer support provides assistance to customers experiencing issues, challenges, or any other difficulties regarding a company's product and/or service. It may be done through calls, live chat, filing a ticket, emails, or by reaching out through social media.
When your customers encounter a problem while using your product or service, they expect a customer service representative from your team that they can rely on. Offering this to customers is a good selling point for your business, with 75% of people saying they're willing to spend more on companies that give them a good customer experience.
Responsiveness and reliability are the top two qualities customers look for when interacting with customer support. Being put on hold for a long period of time is one of the biggest frustrations customers face.
With responsiveness being one of the main factors customers look for, training your customer support team to respond promptly is a must. Being reliable means that your agents are knowledgeable about the ins and outs of your product or service. Having to repeat oneself to multiple agents also causes dissatisfaction among customers. A reliable customer support service guarantees that they can help customers having a difficult time navigating your services or product without having to transfer them to different people.
Simply having a customer support team is not enough, it should also be built with quality people who add value to your business.
CUSTOMER SUPPORT VS. CUSTOMER SERVICE
As mentioned, customer support can be considered as a type of customer service. The main difference between the two lies more on who makes the approach.
Customer service is more about approaching the customer and offering them something before they even know they need it. Simply put, customer service is more proactive while customer support is about being reactive.
Take note though that they are complementary – one cannot exist without the other. Offering both to your customers is critical to ensure the success of your business.
WHY GOOD CUSTOMER SERVICE IS IMPORTANT
Customer support is an essential component of any business. They add an overall immense value to your organization that is evident through the following:
1. INCREASES CUSTOMER SATISFACTION
One other purpose of customer support is to delight customers, aside from just tending to issues or concerns. Customer satisfaction is significantly increased when your patrons know that they always have someone to count on from your end.
A big factor in customer satisfaction also lies in how your customer support team handles the problems customers encounter. There is a high correlation between providing prompt solutions and satisfaction. Having highly trained, responsive customer support agents can make a stark difference for your business.
2. ENCOURAGES REFERRALS
With great customer support, comes even more customer referrals. When your patrons have a positive experience with your service or product, they're likelier to pass the word around about your business.
Customer acquisition is difficult on its own, so having word of mouth do half the job for you is a huge help for your business. This is where the importance of customer support comes in. As front liners, they control how interactions with your customers go. Good communication and swift problem-solving skills are qualities companies should always look for in a customer support agent.
3. STRENGTHENS CUSTOMER ENGAGEMENT
Another perk of having customer support services is connecting and engaging better with your customers. Whether it be through phone calls, emails, or social media, knowing that they can get in touch with your team 24/7 shows that you are reliable and are always willing to extend a helping hand.
Gathering your customer's feedback about their customer support experience will also be a valuable asset to your organization. The data collected from their experiences can be used to further improve your services and fill in the gaps in your customer support services.
4. BOOSTS CUSTOMER RETENTION
Building a loyal customer base requires a long-term commitment from your end. For customers to keep coming back, they must know that they can trust your business. Exhibiting reliability and being knowledgeable enough to instantly help them are ways to establish your credibility.
With a customer support team set to carry out these responsibilities, they should always strive to exceed a customer's expectations. Customer support is also the supporting link between patrons and a business. Through the efforts of your team, trust is built, and customers will be more likely to return for more.
WHAT ARE THE ROLES AND RESPONSIBILITIES OF A CUSTOMER SERVICE REPRESENTATIVE?
An agent's responsibility may vary depending on the needs of your customers and the range of your products and services. Here are just some general duties you can expect from your agents:
Answer and manage incoming customer phone calls
Respond to email inquiries and concerns
Reply to comments and messages across your social media platforms
Man your website's live chat support
Store records of complaints, concerns, and overall customer interactions
Follow up on customers to ensure full resolution of issue/s
Provide tutorials or training for customers who are new to your products/services when needed
Come up with long-term solutions for the benefit of customers
Follow your company's communication standard procedure
Provide an overall positive experience to keep customers engaged
PROVIDE TOP-NOTCH CUSTOMER SERVICE
Having a customer support team is valuable to any organization. Companies should also make sure that they provide outstanding support services – simply having CSRs today is not enough. The people you hire should always be highly knowledgeable, great communicators, and proactive in learning new ins and outs of your business.
Outsourcing customer support services will be a more cost-effective way of integrating it into your business. Aside from reduced employment costs, companies also save time in recruiting and training CSRs.
Building a remote Customer Support team with The Remote Group ensures a seamless outsourcing experience, with access to an extensive pool of skilled professionals who all aim to boost your business.