09 Aug 2020
Illuminet's Make a Difference Day (MaDD) 2020!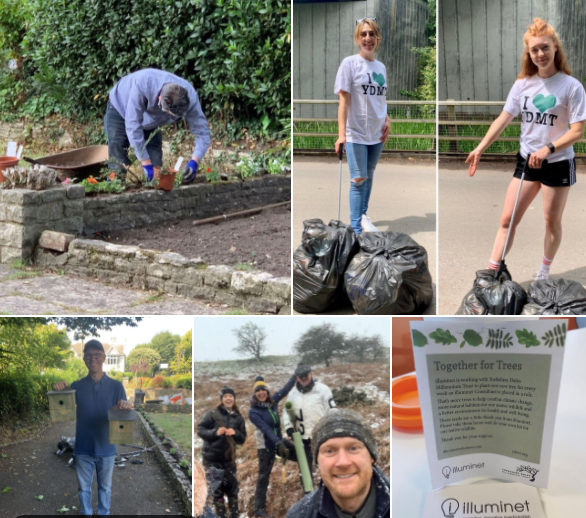 "We partner with the Yorkshire Dales Millennium Trust to plant a tree for each consultant on Illuminet assignment per week, but it is great to do something for the local community and to encourage wildlife to the area too".
However, 2020 had other plans and put a halt on many of our eco-friendly activities. But as the world has started to open up, we were ready, sleeves rolled up, to do what we love again. Making a difference!
The challenge set was simple, one day to make as much difference to the local environment as possible, in each of our locations – whilst remaining socially distanced!
In Poole: Helping a Hidden Treasure in Westbourne

Nestled amongst sycamores just off Alum Chine Road lies the tranquillity of Skerryvore, where the famous author Robert Louis Stevenson lived from 1884 to 1887.
It was there that Robert wrote his most popular novels: 'The Strange Case of Dr Jekyll and Mr. Hyde' and 'Kidnapped'.
The house is no longer, after being demolished in the 1950's, following severe damage from a WWII parachute mine landing directly on the property a decade or so earlier. The footprint of the house can still be clearly seen and the model of Skerryvore Lighthouse (Scotland's tallest lighthouse that was built by Robert's uncle, the engineer Alan Stevenson), after which the house was named, stands in front of memorial benches.
With the help of B&Q Poole and Homebase Branksome, who generously donated plants and compost, Illuminet cleared bushes filling multiple large sacks, dug over large flowerbeds, planted lots of bee-friendly plants, put up bird boxes, created a log pile for insects, picked up litter and swept the paths – all in a day's work!
---
In Basingstoke: Pass the bin bags!
The Basingstoke Team had one slight issue… only one member of the Team actually lives in Basingstoke. Being spread across the UK and the US, meant the challenge became global! We decided to do what we do best, litter picking. Each member of the Team was given 2 hours to pick up as much litter from their local green space as possible, taking photos and videos of their surroundings and findings along the way, then throwing the bin bags to the next person to complete their litter pickup. The bin bags ended up travelling all the way from Fleet to New Jersey in the US – impressive arm strength from the Team!
The photos and videos were transformed into a short video showing off the amazing efforts of the Team and the final result of 18 bin bags of litter cleared from 7 locations globally, in just 1 day! It just shows how little time is needed to make a big impact!
Greg told us "We are not an A-typical IT consultancy, we roll our sleeves up and help our clients get the job done, and we did just that, in 7 different public green spaces globally. Our sincere thanks to B&Q and Homebase for their kind donations, to Chris Colledge from Westbourne Rotary Club and Friends of Skerryvore for helping us organise the day, and of course to the Illuminet Team (Greg Wood, Sonja Morgan, Phil Morgan, Steve Farmer, Lewis Waugh) (video in order of appearance: Chloe Jones, Kit Neal, Tina Roberts, Marcus Frith, Maria Drakoula, Neil Bridger, Anna Soo) for making a difference!"
---
Skerryvore is currently cared for by 'Friends of Skerryvore', a volunteer group of volunteers who meet every month to keep the gardens tidy. Contact for further help can be made to Chris Colledge +44 (0) 7901 686237 or by emailing revdchriscolledge@gmail.com
Or if you're interested to get involved in Illuminet's next eco-activity then get in touch at enquiries@illuminetsolutions.com To see the our MaDD video, please watch below!
https://illuminet.co/illuminets-make-a-difference-day-madd-2020/