GoDaddy now offers point-of-sale devices and breakthrough low payment pricing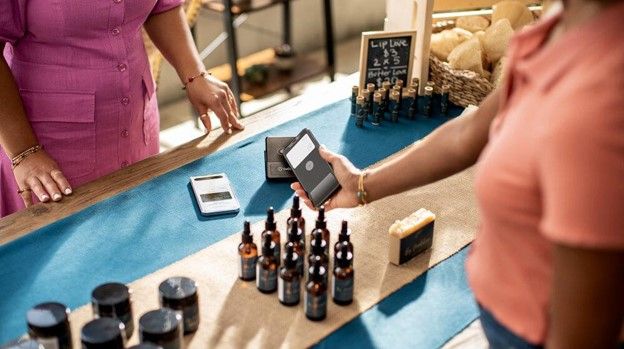 GoDaddy is empowering entrepreneurs to truly sell anything, anywhere by expanding GoDaddy Payments with the launch of two point-of-sale (POS) devices — Smart Terminal and Card Reader. The introduction of the new POS devices unlocks GoDaddy's commerce solution, giving small businesses the ability to sell, track and manage sales anywhere.
Entrepreneurs that operate both online and in-person are now able to use GoDaddy to meet all their selling needs and sell anything, anywhere. GoDaddy also unveiled new groundbreaking pricing — the lowest fees per transaction with GoDaddy Payments compared to other leading providers which enables small businesses to keep more of what they earn.
"GoDaddy's new point of sale offerings supercharge our customers' ability to sell anywhere and grow," said GoDaddy president of commerce, Osama Bedier. "We're on a mission to enable small businesses with the most powerful yet easy-to-use commerce solutions at an unbeatable value. And we're just getting started."
GoDaddy's POS provides an easy-to-use seamless experience for businesses to offer their customers options online and in-person. Using GoDaddy's POS, a retail store can offer online orders with in-store pickup or have customers browse in store and buy online. GoDaddy's POS seamlessly integrates with GoDaddy's Online Store to unify in-person and online sales in one organized place — the new Commerce Hub.
What to expect with Commerce Hub
Commerce Hub is designed to help GoDaddy customers easily manage and track every sale they make, whether that takes place online, in-person, or more commonly in today's landscape, a hybrid of the two. The dashboard enables business owners to quickly view metrics on how their business is performing, including visual graphs mapping sales and orders, and the ability to compare the performance of sales across all the places the business sells. From this single platform, business owners can access in-person sales and online orders from Amazon to Google Shopping, Instagram, Facebook and more — saving time and keeping everything organized.
---
The lowest cost of doing business
With the lowest processing fees compared to other leading payment providers, GoDaddy Payments helps entrepreneurs to keep more of what they earn and focus on growing their business.
With GoDaddy's POS, customers are charged a transaction fee of 2.3% + 0 cents, making GoDaddy Payments transparent and straightforward with no other hidden fees, and the lowest in the industry. Online transactions are also the lowest at 2.3% + 30 cents.
Furthermore, with the same, simple rate of 2.3% across in-person transactions and online sales channels, customers only need to remember one rate, making it easier to keep tabs on costs — something no other competitor offers.
GoDaddy POS accepts all major forms of payment including Visa, Mastercard, American Express, Discover, and contactless Apple Pay and Google Pay, with no long-term contracts or monthly minimums. Designed to make transactions quick and secure, most GoDaddy customers get GoDaddy Payments set up in minutes and get paid as early as the next business day.
POS devices
As part of the new POS launch, GoDaddy is offering some of the best value in the industry with discounted prices on the devices: GoDaddy Smart Terminal costs $249 ($499 MSRP) and the GoDaddy Card Reader with Docking Station costs $49 ($99 MSRP).
GoDaddy Smart Terminal
GoDaddy Smart Terminal is a sleek, all-in-one POS with a unique dual-screen design that meets all in-store selling needs. With a dedicated screen for the shopper and one for the seller, there's no swiveling or sharing screens which makes checkout smoother and contactless.
The Smart Terminal comes ready to use with everything built-in for a convenient checkout process — GoDaddy Payments processing, paper receipt printer and a barcode scanner to quickly scan product UPC codes and QR codes.
For added convenience, business owners can also configure the Smart Terminal online before it arrives in the mail — from adding product listings to company logos and custom receipts — so the device is ready to accept transactions out of the box as soon as it's connected to Wi-Fi.
GoDaddy Card Reader with Docking Station
GoDaddy Card Reader is ideal if you do most of your business on-the-go at farmer's markets, pop-up shops, and the like.
The small device packs big benefits as it's pocket-sized to easily take with you anywhere and features full 3-in-1 swipe, chip and tap function and comes included with a charging docking station. It also has a powerful battery life that lasts all day, so entrepreneurs never have to worry about missing a sale.
Card payments can be taken anyway by swiping, dipping or tapping, along with Apple Pay and Google Pay for fully contactless payment. The docking station adds flexibility to set it on a tabletop to go hands-free to take care of other things.
---
Other benefits of GoDaddy Payments
With GoDaddy Payments, entrepreneurs also get access to additional secure and fast payment options via Online Pay Links and Virtual Terminal for all their selling needs.
With Online Pay Links, you can accept payments without using a website or POS device. Business owners can create a payment link in minutes, customize it to fit their brand, and share it with their customers anywhere they do business — social media, text message, email, in-person and more.
These links will direct customers to a secure checkout page to complete their payment. For selling in-person without a POS, you can transform a pay link into a scannable QR code with one click for buyers to quickly scan and pay.
With Virtual Terminal, you can accept payments remotely when you get an order by phone, fax or mail, simply by opening it in your web browser on any device and entering the buyer's payment information.
Your smartphone, tablet or computer can be transformed into a credit card terminal — no extra hardware is needed.
You get access to everything GoDaddy Payments offers with the purchase of GoDaddy's POS devices. The Smart Terminal and Card Reader are now available for purchase in the United States with free two-day shipping, 30-day money-back guarantee, a one-year warranty, and 24/7 access to GoDaddy's award-winning customer support.
Learn more about GoDaddy's commerce options and how to sell anything, anywhere by visiting godaddy.com/sell-anywhere
* Lowest pricing compared to leading providers Square, Stripe, Shopify and PayPal for ecommerce, in-person, and keyed-in transactions.
To view this article on our website visit: https://www.godaddy.com/resources/skills/point-of-sale